Description
High performance upgraded water intercoolers for racing or street use developed through extensive testing on the Renaissance Speed record setting 1,040 WHP MP4-12C! Proven performance gains for peak results. Lowers intake air temperatures (IAT) significantly which creates denser air for better performance. Upgraded intercoolers also reduce common heat soak issues at any speed including idle.  These are a perfect solution for builds with larger turbos to maintain performance for repeated pulls while maximizing efficiency which can make all the difference on the track or drag strip.
This is also a preventative maintenance upgrade as the factory cooling system can leak over time and cause issues anywhere from mild to catastrophic – which is what lead to the initial design of the Renaissance Speed intercoolers along with the pursuit of sustained performance. This upgrade is also recommended to anyone upgrading downpipes as they need to be removed for installation, saving you on labor.
DESIGN
When failure of their stock MP4-12C intercooler prompted replacement – and with the goal of 1,000+ WHP on their minds – their history of crafting solutions where they didn't exist lead to the creation of our premium intercoolers. There is limited space in which to craft an upgraded unit due to tight clearance restrictions and the need to maintain access to components like spark plugs. Renaissance Speed focused on building the very best bar and plate core style intercooler which is more efficient than the factory tube and fin style intercooler. Billet and metal printed options were considered but offer no increase in performance, only cost and complexity. Crating the intercoolers in the US gives them control over build quality with each intercooler being pressure tested before receiving a seal of approval to ship to you. NPT injection ports were added to support methanol injection – which were found to be a necessity at higher power levels. After thorough testing and lots of abuse on their record setting MP4-12C they're proud to offer the first and the best choice for your upgraded intercoolers!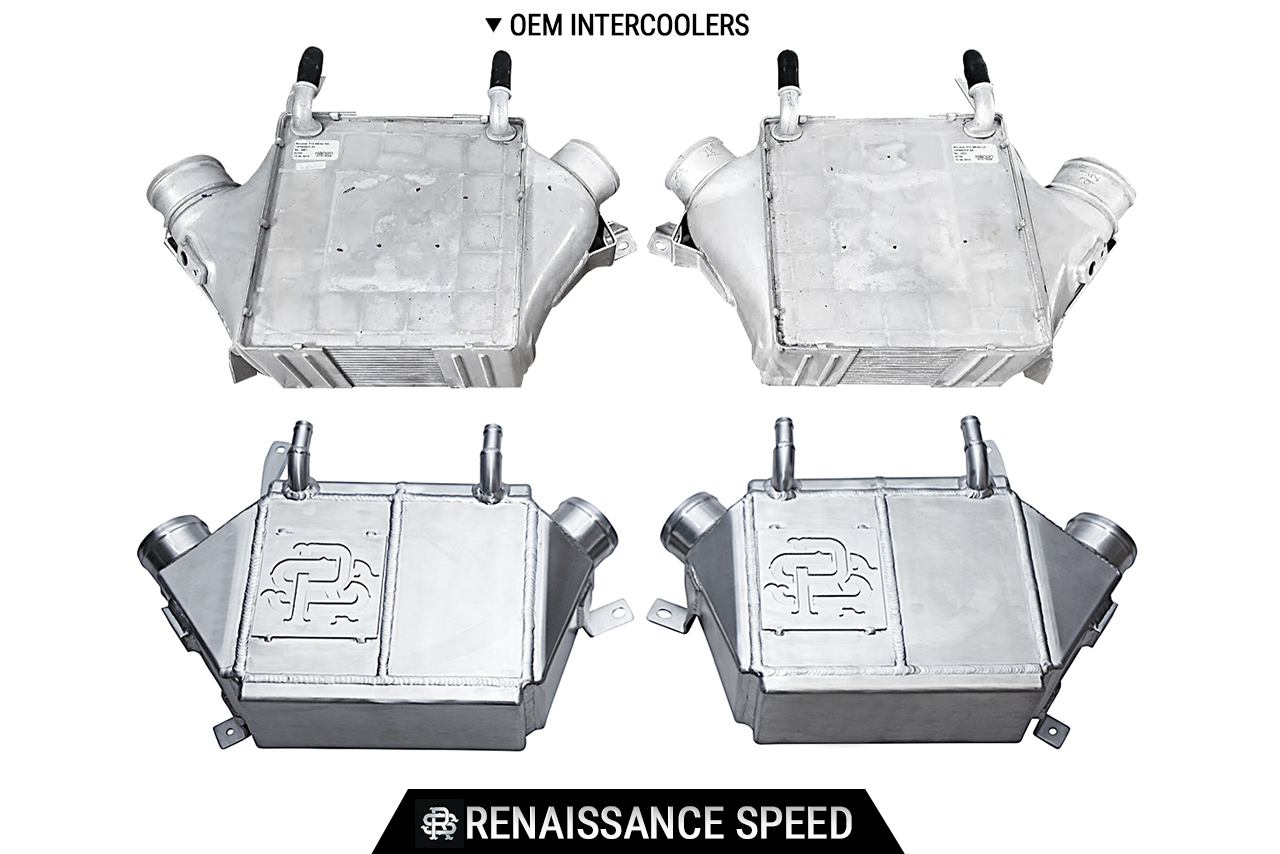 Dyno testing was done on their 1,040 WHP MP4-12C. Along with DynoSpectrum were able to capture logs during a dyno session which spanned several days and over 40 pulls; many of which were 180 mph runs. The car was strapped down for 8 hours of continuous testing. Ambient temps were in the 75-78 deg °F range. They saw consistent idle temps of 79 deg °F  – an increase of only 1 deg °F after a wide open throttle pull at over 8,000 rpms without any methanol! After a wide WOT pull a 4 deg °F increase in temps registers from heat soak. However, within only 10 seconds the IATs are back down to the baseline of 79 deg °F.  The second run in a row tells a very similar story attesting to a minimal IAT increase and super fast recovery times thanks to Renaissance Speed intercoolers. Normally, recovery times are measured in minutes – with Renaissance Speed intercoolers the difference is realized in seconds!

FEATURES:
100% Bolt-on, No modifications needed
100% Made in the USA from 3003 aluminum alloy and pressure tested to withstand an extended 3 bar of boost
Integrated 1/8" NPT methanol injection ports to support high horsepower builds
All factory style ports and connections for OEM like fitment
1 piece, TIG precision welded (versus factory bolted 3 piece unit) prevents failure points
Best in class, high strength bar & plate cores (versus factory tube & fin) for maximum efficiency
Less than 1 psi pressure drop
Dual pass design increases pressure reducing small air pockets which can cause hot spots
ABOUT RENAISSANCE SPEED:  Renaissance Speed is the proud owner of a project McLaren MP4-12C that has made 1,041 whp and 856 ft-lbs of torque – the highest HP record of without nitrous. To achieve this mark, components and solutions had to be crafted where none existed – from engine internals to supporting products – and that is where Renaissance Speed excels. Renaissance Speed has the knowledge, the solutions, and experience to push the power envelope for all McLarens.
SHIPPING:  Usually ships in 4 weeks with additional 1-2 week lead time for anodized finish. Please contact us for an exact ETA.