Description
TRUE TRACK POSITIONING
This groundbreaking technology uses 10 Hz multi-GNSS positioning, image processing and built-in accelerometers to generate your racing line on the track.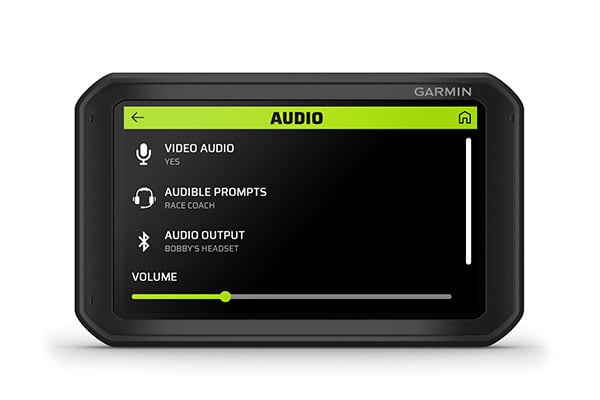 ON-TRACK DRIVING COACH
On the track, Garmin Catalyst quickly becomes your real-time "coach," giving audio cues via BLUETOOTH® technology from your headset or car stereo.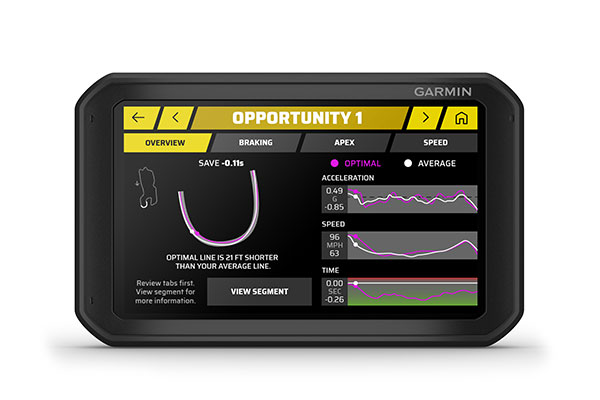 TRUE OPTIMAL LAP
This revolutionary technology combines your best times for each track segment to show your optimum drivable time based on lines you actually drove and can repeat.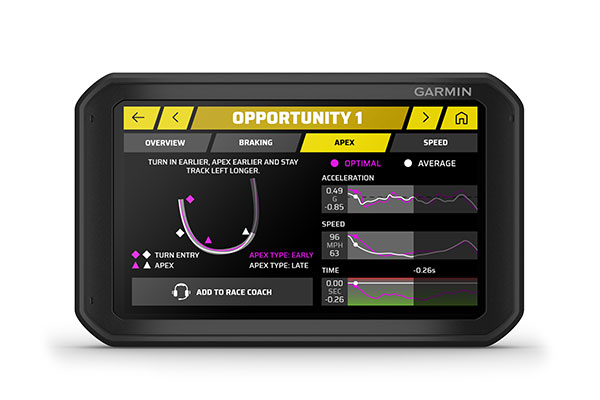 APEX PERFORMANCE
Which line should you track when ripping around corners? See on the map how early or late apex decisions affect your overall speed through the course.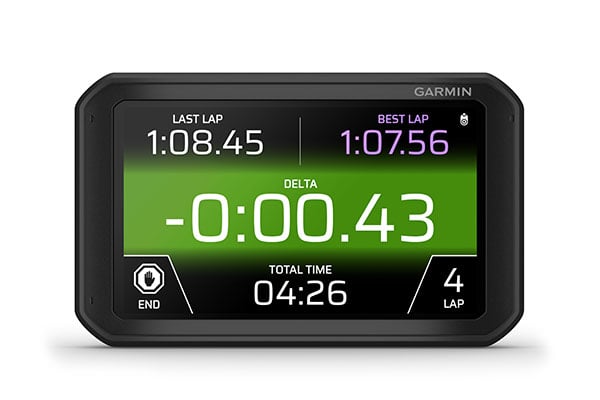 REAL-TIME LAP DATA
On the course, Garmin Catalyst keeps track of your best lap time, adaptive delta time, number of laps and total session time.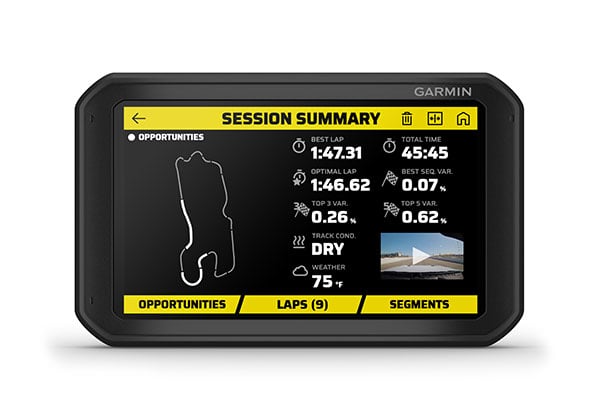 SEE AREAS OF GAIN
After your session, immediately review the performance data on your device to see where on the track your biggest areas for improvement are.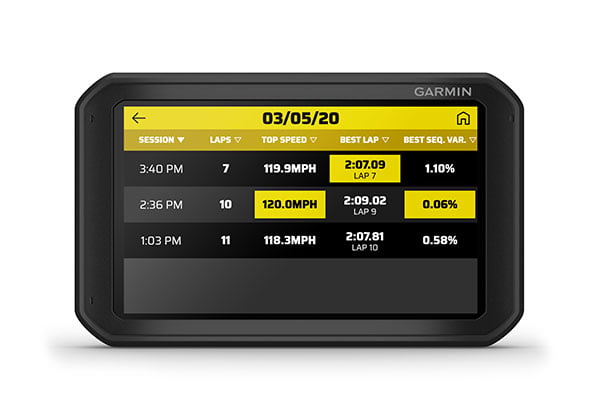 ADAPTIVE COACHING
Easily compare performance data from your other sessions, and get immediate, adaptive suggestions to see areas where you can do better.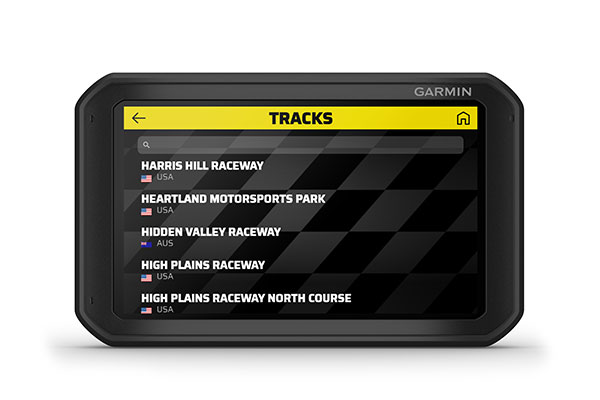 TRACK DATABASE
Garmin Catalyst comes preloaded with a track database featuring road courses from around the world. Garmin Catalyst allows users to easily add courses to the database as well.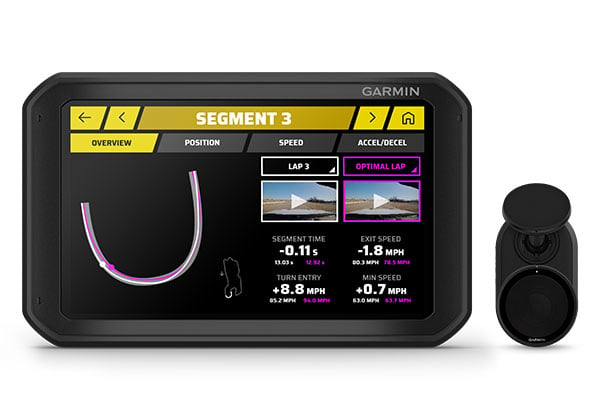 REMOTE CAM
The included remote cam captures clear, crisp HD video, which can be played back on the device with time-synced overlays showing speed, lap data and more.
*OPTIONAL SUCTION CUP MOUNT FOR REMOTE CAM*
This optional mount (PART NUMBER 010-12530-05) allows you to use the remote cam in several cars instead of hard mounting the cam to one vehicle.
What is True Track Positioning™ technology?
New technology uses 10 Hz multi-GNSS positioning, image processing and built-in accelerometers to auto-generate your line on the track. The robust combination of built-in sensors from the Garmin Catalyst unit and the included Remote Cam accessory provides a unique solution for calculating your car's track position in relation to the track map.
What is the Audio Coach?
Listen and learn with real-time audio coaching cues on the track via wireless BLUETOOTH® technology through your compatible headset or car stereo. Some car stereos can add a significant delay when the audio is played, so using your compatible headset is recommended.
Audio coaching cues are provided if users select the "Add to Race Coach" from an opportunity that you have reviewed or if you enabled the "Advanced Race Coach" from the audio coaching menu. This coaching is given after three laps in a session. Three laps allow your car to get up to speed with the session. There are many coaching cues. One phrase example is, "Next left, turn in earlier." Audio feedback is also provided after a user has completed a corner, giving the user instant affirmation of their driving performance. Visit the online support center, and watch the "Pairing the Garmin Catalyst Device with a Headset or Car Stereo" tutorial video for more detailed information.
What is True Optimal Lap™ technology, and how is it different than other "fastest lap" solutions?
This innovative feature exclusive to Garmin Catalyst introduces a unique solution for high-performance driving. The feature uses advanced algorithms to create a composite of your optimum achievable time, based on lines you actually drove and can repeat.
Until now, many industry solutions for identifying theoretical fastest lap have been to split each lap into a number of sectors. Other data systems then take the fastest time from each sector and add it up to generate the user's theoretical fastest lap. Garmin Catalyst is different because it gathers multiple data metrics and identifies where laps can seamlessly be joined together to create the fastest racing line. This shows the user their fastest achievable time based on lines actually driven — and gives them an optimal lap they can truly achieve.
Which racetracks are preloaded in the device? What if a track is missing?
A preloaded track database includes road courses around the world. Plus, you can easily add tracks as well. Visit the online support center, "Which Racetracks Are Available on the Garmin Catalyst?" for more information.
Can I use the device in different track cars?
Yes, users can easily select from the profile menu on the device. This makes it easy to take Garmin Catalyst from one track car to another, and performance data will be saved separately.
SHIPPING:  Usually ships same or next business day. Contact us for expedited orders to ensure proper delivery time.